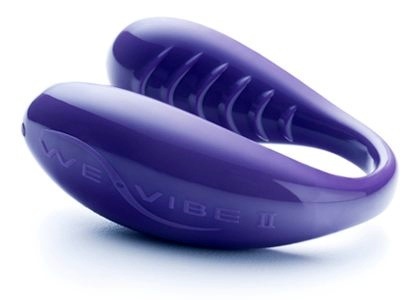 Sex Toys: We-Vibe II Couples Vibrator
Price $99.95
Sex Toys: We-Vibe II Couples Vibrator More Details
Simultaneous Clitoral and G-Spot Stimulation
Worn While Making Love™
Unique in design, this revolutionary product is the first ever dual vibrator that can be Worn While Making Love™. The innovative design with two powerful motors allows for both external clitoral and internal G-Spot stimulation for women engaging in both solo and partner play.
The We-Vibe is hands free, strap free and wireless. Created from medical grade silicone, it's soft, comfortable and easy to use. Treat yourself and your partner to A New Dimension In Pleasure™.

What's New with the We-Vibe II?
With 9 exciting new modes designed to provide maximum climatic stimulation (Low Speed - High Speed - Throb - Wave - Pulse - Ramp - Tease - Ascending - Cha-Cha) and sensually designed to please you and your partner, it's easy to understand why women and couples around the world are saying "Yes, We-Vibe!".
We-Vibe II makes it even easier "to get turned on" with a new intuitive push button easy to find on the We-Vibe II's nose. With just one push you're turned on to Low Speed, push again and you move from one sensual style to the next.
Treat yourself to Harmonic Throbbing™ and enjoy Throb or Ascending, Wave or Pulse, Tease or Cha-Cha; if you're even more daring, try all 9 modes for an intimate night you and your partner will never forget! (Or go solo and keep the vibe all to yourself!)
Finished with your We-Vibe II? Simply hold down the push button for two seconds to turn it off. Did you forget and fall asleep? Don't worry, your We-Vibe now has an automatic shut-off, indicating its time to charge.
At the push of a button, get turned on again with your favourite vibe within an hour of use. The We-Vibe II remembers your last vibration mode, and resumes play!
Soft, Flexible, Comfortable and Discreet

Designed for internal and external stimulation, solo and partner play, We-Vibe II's smooth, silky design is hands-free, strap-free, wireless and comfortable!
With a unique thin flexing arm (on the edge of top secret and patent pending around the world!), that warms to your body, the We-Vibe II gently conforms to your individual shape. When worn, its anatomical design causes the We-Vibe to naturally hug your body and maintains its position during your favorite sexual positions.
Women keep saying, "I never knew it would be so small and flexible!" Men rejoice with the good vibes they receive from both their partner and the We-Vibe II itself, even with a condom on! (Use only Water-based lube with silicone-based toys!)
With two quiet and powerful motors on both ends, the internal and external arms stimulate using a natural flexing "L" shape, and space age design technology. The We-Vibe II is definitely built to last for years of pleasure while making love or during solo play.
Powerful Vibe with Rechargeable Battery

Index Page | About Ruth | Returns |
Copyright Kiss and Makeup, LLC 2016
Returns All Rights Reserved Privacy