Adult Toys: Sinclair's Synergy
Price $74.99
Adult Toys: Sinclair's Synergy More Details
6 speeds
12,000 oscillations per minute
Comes with 5 separate interchangeable attachments (7 total functions)
Color represents a clean, fresh and bright look
Comes with a velvet pouch for storage/travel
Completely cordless & rechargeable
Ergonomically contoured for pleasure & comfort (not as heavy or quite as long)
Attachments fit in two directions for left and right handed users
Rechargeable batteries can be removed and replaced with regular C batteries
(makes for ease of use during international travel, or if no time to recharge)
Comes with an 8 page user's pamphlet
Endorsed by Dr. Linda Banner
Discover a new path to sexual pleasure with the Better Sex Synergy Pleasure System™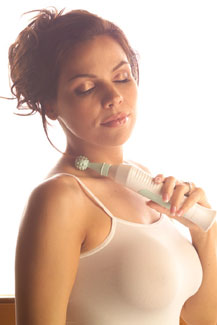 Synergy's unique oscillating action is enabled by a specially designed, Hi Density motor. Rapid oscillations enhance the sexual pleasure you can experience alone or with your partner. An ergonomic design and five unique attachments provide ease of use and a variety of sensual experiences. Expand your capacity for pleasure and orgasm by experimenting with the Synergy, and then share that sexual awareness with your partner. Combined with a rich imagination, Synergy will open up a whole new world of sensual exploration and intimacy for you!
Testimonials & Quotes:
"The Synergy is truly fantastic. It has totally enhanced our love life. We love experimenting with all the attachments."
- Aimee & Brad, West Chester, PA
"Sinclair you've definitely done it! The Synergy is the best purchase I've made in years. It's full of great options, quiet and also travels well."
- Robin, Silver Springs, MD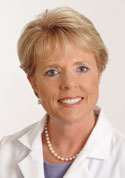 "This oscillating device is perfect for helping women experience optimal sexual pleasure and increasing a couple's sexual intimacy. The innovative ergonomic design and five versatile attachments offer fun and creative variety as well as ease of use."
Linda Banner, Ph.D.
Health Psychologist, Clinical Researcher & Author

Linda Banner, Ph.D., is a health psychologist, sex therapist and author in private practice in San Jose, CA. She does research on sexual arousal and brain imaging at Stanford Medical Center, and has presented at national and international medical conferences on sexual health. She appears as the clinician-narrator on a number of the Sinclair Intimacy Institute's programs, including the Institute's best-selling Better Sex Video Series®. Her articles have been published in numerous medical journals, popular magazines and Web destinations.



Index Page | About Ruth | Returns |
Copyright Kiss and Makeup, LLC 2016
Returns All Rights Reserved Privacy