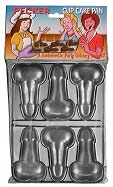 Bachelorette Party Penis Cupcake Pan
Price $14.00
Bachelorette Party Penis Cupcake Pan More Details
The Bachelorette Party Cup Cake Pan can be used to make cup cakes or jello shots. The cups are shaped like penises.

The Pecker Cupcake Pan is a bachelorette party culinary delight. This penis-shaped cupcake pan can be used to make cupcakes or jello shots. Made of sturdy metal, this pan can be used over and over again. The possibilities are endless. Enjoy penis desserts of any color and texture!

This cupcake pan makes 6 cupcakes. The entire pan is 9 1/2 inches by 7 1/2 inches. Each of the six cupcakes will be 4 3/8 inches long, 2 3/4 inches wide and 1 inch deep.



Home | About Ruth | Returns |
Copyright Kiss and Makeup, LLC 2019
Returns All Rights Reserved Privacy