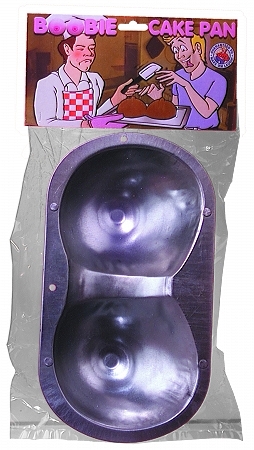 Boobie Cake Pan
Price $14.00
Boobie Cake Pan More Details
If you are planning a bachelor party or a Jack and Jill Party, you might want to buy the Booby Cake Pan to make a boobs-shaped cake for the guys. It is approximately the same size as our Mid-Sized Penis Cake Pan.

One-half box of cake mix is the perfect size to use with the Booby Cake Pan. You can frost your cake with butterscotch frosting and place cherries in the center of each boob. The dudes will totally love it.

This cake pan is 10 inches wide by 5 inches tall by 2 1/2 inches deep. I guess that makes it about a C-cup.




Home | About Ruth | Returns |
Copyright Kiss and Makeup, LLC 2019
Returns All Rights Reserved Privacy