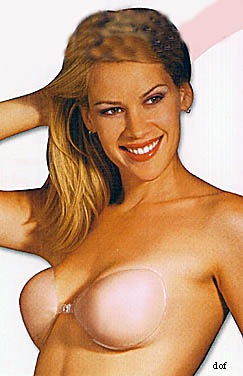 Bra Accessories: Nu Bra
Price $60.00
Bra Accessories: Nu Bra More Details
If you're shopping for the perfect silicone bra cups, the Nu Bra Silicone Bra Cups are a must-have bra and lingerie accessory. Available in A cup, B cup, and C cup sizes.
The New Definition for Freedom! NU BRA
Silicone bra cups for the most natural feel and look
Self adhesive, self-supportive
Washable, reusable
Totally backless, strapless and invisible under any sheer clothing
Front closure for cleavage and lift
Two separate bra cups to allow you the most flexibility of your body movement
Easy to use, easy to clear
Special adhesive tested by the lab and proven to be safe and skin friendly
Three Sizes: A Cup (32038; B Cup (32-38), C Cup (32-38)
Colors: Nude, Mocha, Black
Buy your Nu Bra Silicone Bra Cups at Kiss and Make Up today!


Home | About Ruth | Returns |
Copyright Kiss and Makeup, LLC 2019
Returns All Rights Reserved Privacy