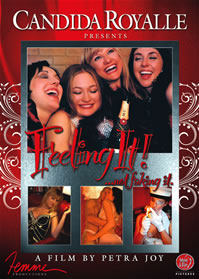 DVD: Feeling It!...not fakin it.
Price $24.95
DVD: Feeling It!...not fakin it. More Details
By Filmmaker Petra Joy

An artistic eclectic erotic film featuring six beautifully shot sensual vignettes of female fantasies edited to music. "Artcore" entices the viewers into a journey to the land of fantasy with tantalizing messages written on sensual bodies. "Wings of Desire" features a beautiful young woman enjoying soft, sensual sex with an angel of pleasure on a rooftop at sunset. "Sailors' Bride", burlesque performer Violetta Storm makes her fantasy to have sex with two female sailors come true. "Eye Candy" shows a bit of guy candy for women who like to watch. A gorgeous Latino, silver fox relaxes with some hot solo fun in the sun after his gardening job is done. "Feeling It" is a sensual scene featuring intimate and tender sex between an alabaster skinned girl and a chocolate skinned, beautiful man. In "Hardback", a stern and stunning mistress is worshipped and pleasured by her hunky slave lover. "The Secret Garden" shows two beautiful girls exploring and pleasuring each other gently in an English garden, a beautiful erotic summer dream in black and white. "Only the Best" features champagne & oysters being served by a butler in the buff, a gorgeous chocolate color gift wrapped, a birthday girl and her female friends. 68 minutes.



Home | About Ruth | Returns |
Copyright Kiss and Makeup, LLC 2019
Returns All Rights Reserved Privacy