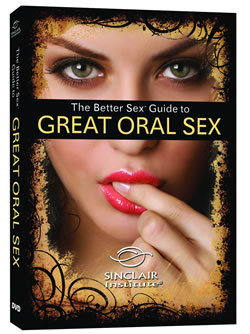 DVD: Sizzle! Sinclair Institute Guide to Great Oral Sex
Sinclair Institute's The Better Sex® Guide to Great Oral Sex provides over an hour of oral sex instructions and demonstrations. Learn how to do it like the pros! Oral sex is one of the most sensual of all love play, capable of producing sensations that far surpass the pleasures of intercourse alone. Learn how pleasing your lover orally allows you to share deeper intimacy, and experience new heightened pleasures. Watch as seven real loving couples explicitly demonstrate the delicacies of oral sex designed to take your love life to a whole new level.

66 minutes

Purchase your Sinclair Institute The Better Sex® Guide to Great Oral Sex DVD today!