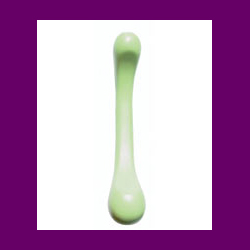 Adult Toys: Energie by Natural Contours
Price $49.95
Adult Toys: Energie by Natural Contours More Details
This Énergie by Natural Contours is perfect for women before and after childbirth, and after menopause. The Énergie is the perfect weight resistance trainer for the kegel muscle, one that is small, functional and effective. Being designed in Europe, it is ergonomically shaped for ultimate comfort. Using the Énergie kegel exerciser will provide a safe and pleasurable way to maintain your vaginal PC muscles tone before and after childbirth as well as after menopause. Instructions for use are included.

Dimensions: 6 1/2" long and from 1 1/4" to 1 1/2" wide.

Buy your Natural Contours Energie at Kiss and Make Up today!


Home | About Ruth | Returns |
Copyright Kiss and Makeup, LLC 2019
Returns All Rights Reserved Privacy