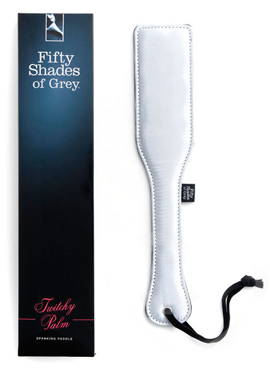 Fifty Shades of Grey Twitchy Palm Spanking Paddle
Price $29.95
Fifty Shades of Grey Twitchy Palm Spanking Paddle More Details
Has your lover been naughty lately? It may be time to instill some discipline in them. This Fifty Shades of Grey Spanking Paddle is made from smooth, soft and sensual satin, this spanking paddle is the perfect introduction to the pleasure of spanking play. The special shape provides a large area of coverage and the long handle is easy-to-grip for a satisfying wack.

Key features:
- soft satin for stroking and buffered spanking
- firm leather for harder spanking
- easy-to-grip handle with wrist strap
- supplied with branded Fifty Shades storage bag
Buy your Fifty Shades of Grey Twitchy Palm Spanking Paddle today!


Home | About Ruth | Returns |
Copyright Kiss and Makeup, LLC 2019
Returns All Rights Reserved Privacy