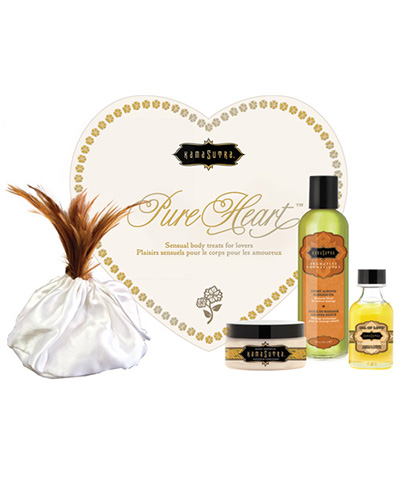 Kama Sutra Pure Heart Massage Kit
This Pure Heart Massage Kit is made by Kama Sutra and is available for purchase online or in-store at Kiss and Make Up.Gorgeous, white heart shaped gift set includes sensual body treats for lovers. Perfect for Valentine's Day, anniversaries, bridal showers, weddings, honeymoons or just because.

Includes: Oil of Love Vanilla Creme kissable body oil (.75 oz), Honey Dust Honeysuckle kissable body powder and feather tickler for Honey Dust Application (2 oz), Body Souffle Vanilla Creme kissable body cream (1.8oz), Aromatic Massage Oil Sweet Almond, sensual blend of oils for romantic massage (2 oz). Comes in ready to gift packaging. TSA approved for airplane carryon.

Purchase your Kama Sutra Pure Heart Massage Kit at Kiss and Make Up today!