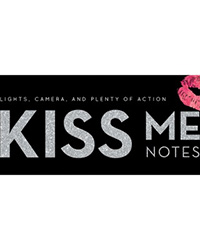 Kiss Me Notes More Details
Reenact some of Hollywood's most famous kiss scenes with these Kiss Me Notes! You can expect Lights, camera, and plenty of action! These 24 famous movie kisses are perfect to reenact with a sweetheart! The perfect gift for a loved-one, given all at once or shared as single surprises. Decorated with shimmery glitter and made from sturdy thick paper, these adorable notes can be sealed with the included "kiss" stickers for a lovingly intimate message.

"Nobody puts Baby in a corner." — Johnny Castle, Dirty Dancing

A slow dance, a slow kiss...let's have the time of our lives.

Buy your box of Kiss Me Notes at Kiss and Make Up today!


Home | About Ruth | Returns |
Copyright Kiss and Makeup, LLC 2019
Returns All Rights Reserved Privacy