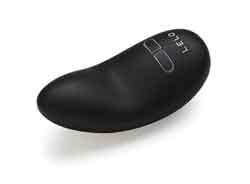 Adult Toys: LELO NEA - Black
"They say: "By blending fashion, femininity, engineering and design, our aim is to create objects not just functional, but seductive in their own right. Lust objectified to inspire a positive and confident sexuality."

We love what they've written in the back of their product manual: "The clitoris is the only feature of the human anatomy whose sole function is to convey messages of sensual pleasure. Use it wisely, often and with care."

NEA, the modest sister of LILY, is a slight and ornate pleasure object with a porcelain-like finish and deceptively powerful purr. Decorating the glossy exterior, pleasing to the eye as well as to the touch, are delicate floral motifs reminiscent of the belle epoque.


Technically 27 different speeds to choose from.
Rechargeable - just like your cell phone!
Holds the charge for up to 90 days.
Up to 7 hours of continual use after 1-2 hours of charging.
Can be "locked" like a cell phone - so that it doesn't turn on during storage or travel.
The motor inside is one of the highest quality ones available.
Comes with a one-year warranty.
Extremely quiet, silent.
Made of surgical-grade elastomer plastic - suitable for water, silicone or oil lubricants.
Ergonomically designed to contour the body perfectly.
Sleek, artistic design that looks as though it should be in museum.
Up-scale packaging and presentation that coveys wealth, status, artistic pleasure.
The perfect gift for the woman or man who has everything or wants everything!
Available in black.