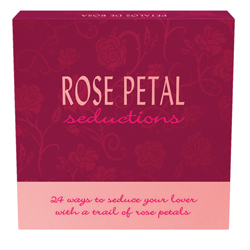 Rose Petal Seductions
Price $19.95
Rose Petal Seductions More Details
Seduce your lover with roses & sexy games!
If your lover complains that you never give her roses, then this kit filled with romantic games and other sexy ideas is just what your relationship needs!

The Rose Petal Seductions Game includes:
Seduction Cards
Filled with fun and sexy games, role playing scenarios, and ideas for seduction, these cards are just the inspiration you and your lover need to break the status quo! The set of 24 cards include a number of fun activities including creative ways to use the rose petals, a sex-themed scavenger hunt, a naughty picnic and plenty more games to keep you and your lover busy! The 24 cards come in English, French, Spanish and German.
Blindfold
Amazingly versatile, blindfolds serve as a friendly introduction to kinky sex as well as a great addition to foreplay in general. Blindfolding your lover forces him or her to focus on their other senses as well as heightening them. This makes even the slightest touch become an erotically charged experience. It also eliminates the personís ability to anticipate your actions, so the shock and surprise element also makes everything you do extra stimulating!
White-leaded Pencil
This unique pencil lets you write love notes to your partner on a variety of surfaces, including the rose petals. Write some of your favorite sexual fantasies, activities or positions on rose petals and then take turns picking and acting them out with your partner!
2 Candles
Nothing says romance like candlelight! The flickering light from these two candles will help create a sensual setting to put your lover in the mood.
Rose Petals
The perfect compliment for any romantic plans! A hundred rose petals offer a sexy and seductive touch to whatever you have planned for the evening, whether it's a romantic bubble bath, a candlelit dinner, or a relaxing massage.



Home | About Ruth | Returns |
Copyright Kiss and Makeup, LLC 2018
Returns All Rights Reserved Privacy