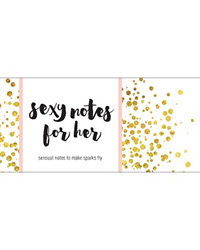 Sexy Notes for Her
Price $7.95
Sexy Notes for Her More Details
This adult game, Sexy Notes for Her, is available to purchase online or in-store. Sensual notes to make sparks fly! 24 redeemable ways to give her what she wants...Perfect to give to her all at once, or share as single surprises! Gorgeously designed and made from sturdy thick paper, these notes can be sealed with the included stickers for a lusciously sensual suggestion.

ôLet's explore that sexy imagination of yours. Hand over this note to reenact your most private fantasy."

Buy your Sexy Notes for Her adult game at Kiss and Make-Up today!


Home | About Ruth | Returns |
Copyright Kiss and Makeup, LLC 2019
Returns All Rights Reserved Privacy