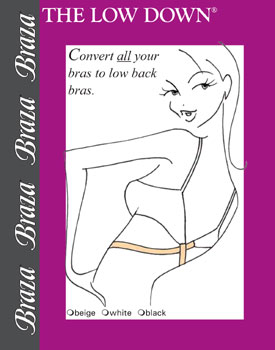 Bra Accessories: Low Down S/8050
This Braza The Low Down bra accessory is available to purchase online or in-store. Converts any bra to a low back bra. Low back clothing was often not an option until now. Just hook to the back of any 1, 2 or 3 hook bra. Bring around the waist, attach and adjust in the front.

Sizes: Small (4-6), Medium (8-10, Large (12-14),
X-Large (16-18)
Colors: White, Beige, Black

Buy your Braza - The Low Down at Kiss and Make-Up today!