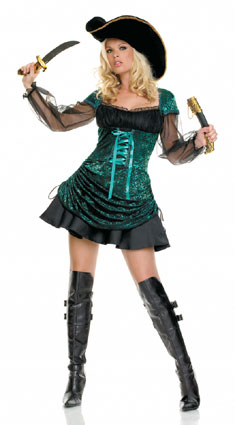 Costume: Treasure Pirate 83232
This Treasure Pirate Costume is made by Leg Avenue and is available to purchase online and in-store at Kiss and Make-Up. We have no doubt that this Treasure Pirate Costume will lead your lover to the treasure chest, the booty, and the X. This 3-piece Treasure Pirate costume includes one velvet burnout dress with sheer sleeves, one dagger, and one hat.

Available Colors: Green/Black

Available Sizes: SM ONLY

Buy your Leg Avenue Treasure Pirate Costume at Kiss and Make-Up today!