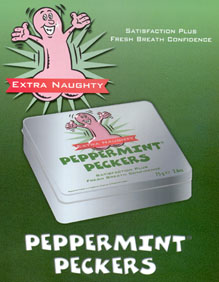 Erotic Edibles: Peppermint Peckers
Price $6.00
Erotic Edibles: Peppermint Peckers More Details
These Erotic Peppermint Peckers are available to purchase online and in-store at Kiss and Make Up. These Peppermint Peckers are fresh, and will easily keep your breath fresh during love making sessions! We are certain you'll be happy you bought a pack of these edible peckers. PEPPERMINT PECKERS
Peppermint Peckers - EXTRA NAUGHTY. Satisfaction Plus Fresh Breath with Confidence guaranteed.

Buy your Erotic Edible Peppermint Peckers at Kiss and Make-Up today!


Home | About Ruth | Returns |
Copyright Kiss and Makeup, LLC 2019
Returns All Rights Reserved Privacy