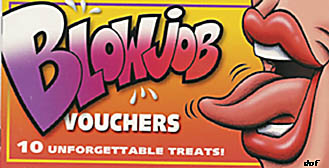 Fun & Games: Blowjob Vouchers
This Blowjob Vouchers adult game is available to purchase online and in-store at Kiss and Make-Up. The Blowjob Voucher game features 10 Unforgettable Treats!!
BLOWJOB Voucher Examplese
This Voucher Entitles You To A: BLOWJOB with Whipped Cream, in the Kitchern while watching TV, first thing in the Morning, in the Car, in the Shower, in the Water, in the Woods, in a Parking Lot, or in an Elevator.

Give a blowjob when he earns one.

Buy the Blowjob Vouchers game at Kiss and Make-Up today!