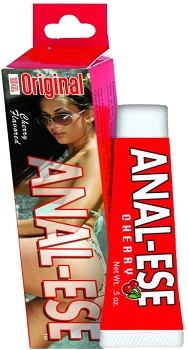 Anal-ese More Details
This Anal-ese Lubricant is available to purchase online and in-store at Kiss and Make-Up. This lubricant is also Cherry Flavored, and is designed to make anal pleasure more pleasurable. All you need to do is apply a small amount of ANAL-ESE to rectal area prior to penetration, then wait a few minutes for desensitization before attempting anal penetration. The Proper amount and waiting time will be determined after your first several uses.

Buy your Anal-ese Lubricant at Kiss and Make-Up today!


Home | About Ruth | Returns |
Copyright Kiss and Makeup, LLC 2019
Returns All Rights Reserved Privacy