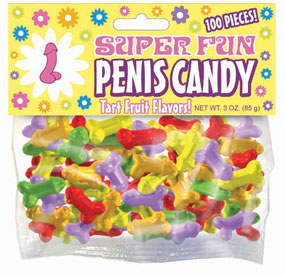 Party Novelties: Super Fun Penis Candy
This Super Fun Penis Candy is available to purchase online and in-store at Kiss and Make-Up. This Delicious, tart, fruit flavored mini candy penises are more fun than a person should have! You can share these penis candies with others, or have them all to yourself. These charming and super fun penis candies are packaged in a 3oz clear bag with 100 pieces and a header card.

Buy your Super Fun Penis Candy at Kiss and Make-Up today!