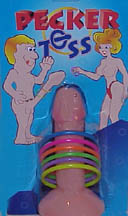 This Penis Ring Toss Game is available to purchase online and in-store at Kiss and Make-Up. Let's play a game of Pecker Toss, Everyone!

If you are looking for a new twist on a great game for your next party, The Penis Ring Toss Game will surely loosen everyone up. You'll get a Rubber Penis and 6 colorful rings. This product is said to be a "Dead Ringer Every Time!"

Buy your Penis Ring Toss Game at Kiss and Make-Up today!