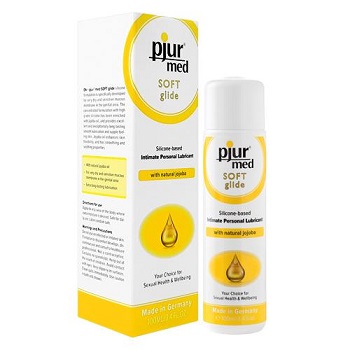 This Pjur Med Soft Glide Lubricant is available to purchase online and in-store at Kiss and Make-Up. The Pjur Med Soft Glide comes in a 3.4 ounce bottle.

pjurŪmed SOFT glide silicone formulation is specially developed for very dry and sensitive mucous membrane in the genital area. The concentrated formula with high grade silicone has been enriched with jojoba oil, and provides excellent and exceptionally long-lasting smooth lubrication and supple feeling skin.

Jojoba oil enhances skin flexibility, and has smoothing and soothing properties.

All pjur lubricants, gels and sprays are rigorously tested, CE certified and formulated with the highest quality ingredients.

Buy your Pjur Med Soft Glide Lubricant at Kiss and Make-Up today!