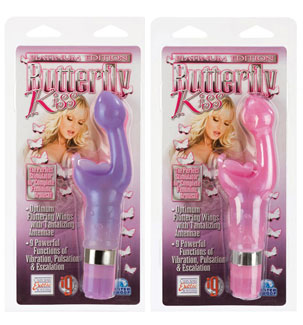 Sex Toys: Platinum Butterfly Kiss Vibrator
Price $24.00
Sex Toys: Platinum Butterfly Kiss Vibrator More Details
Ladies, you are going to love this Platinum Butterfly Kiss Vibrator! The Platinum Butterfly Kiss vibrator has a powerful arouser with a fluttering butterfly and sensually soft g-spot stimulator.

With this vibrator, you can choose from 9 functions of vibration, pulsation and escalation with the easy push of a button.

This vibrator is made from unscented TPR and ABS. 2.75 inches long x 1.25 inches wide. Requires 2 AAA batteries. (Batteries are not included.)

Colors: Pink, Purple

Purchase your Platinum Butterfly Kiss Vibrator at Kiss and Make Up today!


Home | About Ruth | Returns |
Copyright Kiss and Makeup, LLC 2019
Returns All Rights Reserved Privacy