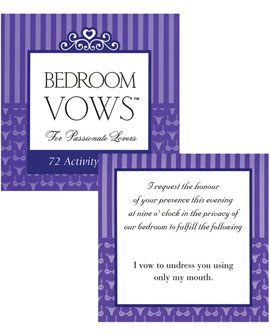 Sexy Fun & Games: Bedroom Vows
Price $10.00
Sexy Fun & Games: Bedroom Vows More Details
This Eldorado Bedroom Vows adult game is available to purchase online or in-store. …10 minutes of any foreplay you desire
…Making love every night for a week
…Sex Slave for the night

Bedroom Vows area collection of naughty suggestions, playful surprises and sexual seductions guaranteed to spice up your love life in AND out of the bedroom. Simply choose a vow and show your lover you are "in the mood", as a reward or just because...it's up to you.

Buy your Eldorado Bedroom Vows adult game at Kiss and Make-Up today!


Home | About Ruth | Returns |
Copyright Kiss and Makeup, LLC 2019
Returns All Rights Reserved Privacy