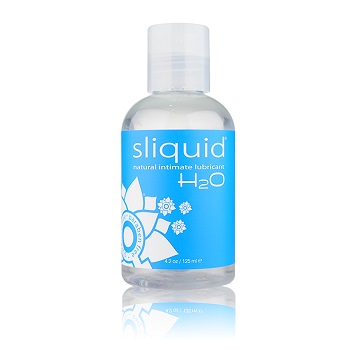 Naturals H2O is a water based personal lubricant, and Sliquid's Original formula. Formulated to emulate your body's own natural lubrication, Sliquid Naturals H2O uses plant cellulose as a thickening agent, instead of glycerin or other sugar derivatives like most other personal lubricants on the market today. Sliquid Naturals H2O, like all Sliquid products, does not contain any parabens, and is 100% vegan. Naturals H2O is perfect for use with all toys and condoms, and safe for all sexual activity. Sliquid Naturals H2O is not flavored or scented, and is non-staining and extremely easy to clean up. All Sliquid products are formulated by sensitive women, for sensible women, and will never cause yeast infections or UTI's.

Naturals H2O Ingredients
Purified Water, Plant Cellulose (from Cotton), Cyamopsis (Guar Conditioners), Potassium Sorbate, Citric Acid

Purified water based formula * 100% Vegan friendly
* Water soluble and easy to clean up
* Glycerin free and paraben free
* Hypoallergenic and non-toxic
* Latex, rubber, and plastic friendly
* Non-staining, unflavored and unscented
* Uniquely blended to emulate your body's own natural lubrication

4 oz.